Kudos!
WORTH IT! GREAT SERVICE! HUGE PORTIONS! 
Four of us have been having breakfast every Saturday morning for a couple of years now, same table, same order, same server until recently when she moved on to another restaurant. Good food, good people.
Breakfast on Saturday mornings is amazing and the service is good. If you leave here hungry, there must be something wrong with you. Keep up the good job Mo!!!
Portions are very large, quality is high, and prices are reasonable. I have had the "Eggs Mo" (eggs benedict with peameal bacon) and the Ruben sandwich. Both were outstanding although I enjoyed the "Eggs Mo" a tiny bit more. The holandaise is as good as any I have had anywhere. With all of the national chain "nice" restaurants and their portion control and prepackaged everything, give Mo's a try. Everything is fresh and made to order, you won't regret it!
We go all the time! Our friends go almost every saturday & sunday for the HUGE breakfast, but then again everything at Moe's is huge! If you feel that you aren't getting your monies worth at your family restaurant, then try Mo's; it doesn't get any better than this for quality and size.
Thanks so much Mo for an awesome dinner - The Autumn Purse Grab was a big success and everyone LOVED the food - you're the BEST!
Overall a great restaurant, wonderful tasty food, attentive staff. We will be going back for more (the all day breakfast looks very appealing).
I love this place! The food is amazing, went there for breakfast. You can't beat the value! This place really has a "family" atmosphere. 
Because the portions are HUGE! I'm a big eater, but still take home half the meal. The brunch is great, and I've liked everything I've tried. 
Eat here with an intern staff reporter from the North Oakville Today newspaper. Was told alot of the staff from the Oakville Beaver eat here constantly. Besides having a large selection of their menu to chose from, the food portions are hugh. Service was fine and the prices reasonable.
Mo's Family Restaurant raises over $2,000 for Kerr Street Ministries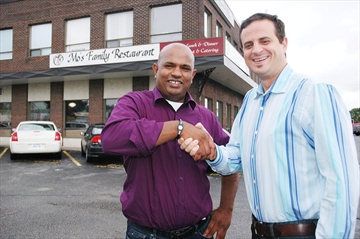 KSM gives thanks to Mo's
Photo by Ian Holroyd
For the past three years, Moe Thiyagarajah, owner of Mo's Family Restaurant at 467 Speers Road, has hosted a free Thanksgiving dinner for his customers, with donations going in support of Kerr Street Ministries (KSM). Above, David Di Sabatino, executive director of KSM (R) thanks Thiyagarajah for his support.
Oakville Today
ByIan Holroyd
NORTH OAKVILLE TODAY - There was a lot to be thankful for at Mo's Family Restaurant this past Thanksgiving Monday.
Moe Thiyagarajah, owner of Mo's, offered a free turkey dinner to his customers, with voluntary donations going toward Kerr Street Ministries (KSM).
"I like to give thanks to the community and the people that have made my business successful," he said.
By 5 pm, the restaurant, located at 467 Speers Road, was filled with revelers and their plates were heaped with turkey and all the fixings.
This is the third Thanksgiving in a row that Mo's has given away a free turkey dinner in support of KSM.
Thiyagarajah said that he was first motivated to put on his free Thanksgiving feast when he realized that some of his customers did not have family members to celebrate the holiday with.
"Who can't cook the turkey dinner, they can come here and have the turkey on me," he said through a permanent smile.
Thiyagarajah said that because some people may feel uncomfortable getting a free turkey dinner, he gave his customers the option of donating money to KSM.
"They do a lot for the community," he said about the local charity.
Over $2,000 dollars was raised for KSM at this year's event and over 180 meals were served.
"That money impacts our programs in so many different ways," said KSM executive director David Di Sabatino.
KSM is a charitable Christian organization that offers programs such as after-school programs for youths, summer camps, a food bank and many other community support initiatives.
Di Sabatino said he was impressed not only by the amount of people who came to the restaurant that night, but also with the generosity displayed by Thiyagarajah and his staff.
"All of the staff were volunteers that day. They were all doing this out of the goodness of their hearts," he said.
"I've never seen food heaped up that high. There was so much turkey," he added. "That was just a lot of food. It was just generosity in every sense of the word."
Di Sabatino said he believed that Thiyagarajah will likely be rewarded in the future for all his goodwill and selflessness.
"Generosity, in my opinion, always pays off for you in the end," he said, "because you're thinking about others and because you're doing the right thing, there's a return on your investment always.
"What business just gives away their night and gives all the proceeds to a charity," he said shaking his head. "I thought it was incredible."
For more information, visit www.kerrstreet.com or www.mosfamily.ca.